About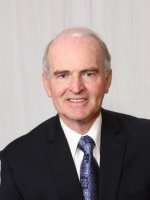 Garry Forde, Investment Fund Advisor
Garry Forde has been helping Canadians plan their financial future for over 30 years. His mission of helping his clients protect their financial assets and achieve their dreams has always been paramount. Garry knows how to listen and is fully committed in helping his clients achieve their financial goals. He takes the financial welfare of his clients and their families very seriously.
Garry and his wife, Linda, have lived in the Abbotsford community for all of their 40 years of marriage. They have two married children and four wonderful grandchildren. Garry & Linda live a very active lifestyle enjoying the great outdoors of beautiful British Columbia. Linda assists Garry in the management of his clients' assets in a secretarial capacity and has done so for the past 20 years.
Both have been members of Northview Church for the past 20 years.
Formula for Spiritual Success:
If you want to be distressed.....Look within
If you want to be defeated.......Look back
If you want to be distracted.....Look around
If you want to be dismayed......Look ahead
If you want to be delivered.......Look up
Garry believes that "If you cannot sleep with your portfolio you will never enjoy the return"!
The cornerstone of financial planning is the recognition that everyone's economic and life situation is unique. Personalized service is essential when matching you with the right financial products and services.
A commitment to professionalism and the cooperative development of unique, personal goals forms the foundation of any strong financial plan.
A financial plan must reflect the stage of life you are in: whether purchasing a first home, financing a child's college education or planning for retirement. A plan must reflect your personal or business situation, and highlight those financial products that best fit it. A custom-tailored financial plan must also be continually reviewed to measure its achievements against stated aims, and ensure that you are comfortable everything is moving forward according to your goals and objectives.
If you have questions regarding your portfolio or about your specific financial situation, contact me. We will set up a time to meet to review your needs and address any questions you may have.Your appointment will be confidential and is completed with no obligation on your part. Contact me today.